Volleyball > Uniforms >

[

x

]

Reversible >

[

x

]

Blue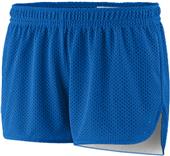 Augusta Lady Reversible Junior Fit Sassy Short CO [E63250]
$1.99-$5.49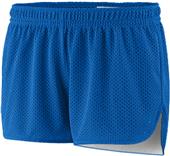 Augusta Sportswear Girls Reversible Sassy Short CO [E63264]
$1.99-$4.49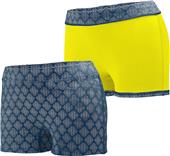 Augusta Sportswear Ladies Impress Reversible Short [E107252]
$11.59-$14.69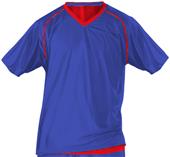 Alleson 701RY Youth Reversible Utility Jerseys [E17668]
$15.25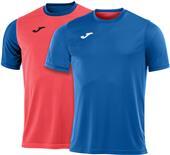 Joma Combi Reversible Polyester Training Shirt [E122705]
$16.89-$19.79
Volleyball Uniform Buying Guide
Great volleyball games begin with great volleyball uniforms. They say a lot about your team, and the spirit of your players. Shopping for the perfect indoor team volleyball uniform doesn't have to be difficult or expensive. To make your volleyball uniform shopping experience a little easier, we've put together some frequently asked questions and answers to help you find just the right look at the right price. And maybe you'll learn something new about volleyball uniforms, too!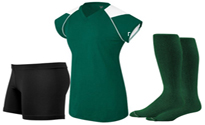 What does a volleyball uniform consist of?
According to FIVB rules, a volleyball uniform consists jersey, shorts, and socks, and must be uniform with the team (except for the Libero). USA Volleyball does not consider socks to be a part of the uniform, but does include any visible undergarments such as t-shirts, tights, body suits, bicycle shorts, sports bras, etc., as part of the uniform and should be similar in color and match those of teammates (except for the Libero).
How do I shop for a volleyball uniform?
You've come to the right place! Epic Sports offers an affordable line of the most current styles, fabrics, and technologies by some of the most trusted names in the athletic clothing industry. Our retail prices are among the lowest you'll find anywhere. Once you know what your team needs, simply make your selections. You can purchase the shorts and jerseys separately, or keep it simple and economical and select from an array of convenient uniform package kits. Now that you've chosen your uniform, you're ready to customize!
How do I customize my team volleyball jersey?
It's a breeze! We make it easy to design your own look right at your desktop. Simply select your team volleyball jersey, then go to "view printing options" and choose the package that meets your needs and style. Or, fully customize for one-of-a-kind team volleyball jerseys.
What printing options does Epic Sports offer?
We offer two to three convenient print packages, depending on the jersey you select, or you can opt to fully customize. Our most economical package offers back number only, or you can select front and back numbers, or back name and number. For a better look at our print packages and prices, go to our 'view printing options' page. Want us to print your own team logo or artwork? We can do that! See our FAQ page to learn about it.
What print process do you use?
We apply flat vinyl material using professional heat transfer for a finish that is clean and durable.
Do you offer team or bulk discounts on volleyball uniforms?
We think all our customers deserve the best prices whether they buy uniforms by the unit, or in bulk. For that reason, we try to keep our single unit prices lower than our competition's best team discount prices so that everyone gets a great deal. Compared to our competition, we believe our prices are usually the lowest. You will notice that when you go to select a piece, that if you order 10 or more items, the price drops giving you a significant savings on your team volleyball uniforms.
Also, if your team has a website, we offer an affiliate membership program that may give you added bonuses. It's a program that allows you to earn a percentage of our sales! What a great way to earn a little extra money for your organization. Click here to learn more about Epic Sports Affiliate Program.
What number am I allowed to have on my team jersey?
FIVB 2011-2013 Domestic Competition Regulations:
Players' jerseys must be numbered 1-18, unless they're competing in an official FIVB or world competition, in which case jerseys are numbered 1-20.
USAV (USA Volleyball)
Players' jerseys must be permanently numbered from 1-99; no duplicate numbers.
What are some rules for decorating volleyball uniforms?
FIVB:
Jerseys must be clearly numbered and centered on front and back.
Number color must contrast the jersey color and appear the same on the front and back.
Numbers should be at least 6 inches (15 cm) high on the front, 8 inches (20 cm) high on the back, with number stripes no less than 2 cm (3/4") wide.
Team captain's jersey number should be underlined on the front to identify them as captain.
USAB:
Numbers may be no less than 4 inches (10 cm) high on on the front, 6 inches (15 cm) high on the back.
Volleyball Uniforms
Spike your budget and buy custom volleyball uniforms from Epic. Save 20 to 40 percent on the complete package including youth, men, and women's volleyball uniforms, apparel, shorts, shirts, volleyball uniform jerseys, equipment and so much more. For a new look this season, design volleyball uniforms at your own desktop with our user-friendly online customization software. For extra savings on all your team volleyball uniforms and gear, join our special affiliate program! With every day Epic savings, no need to shop around. Get your complete discount volleyball uniforms and all your supplies right here online.